"BACK IN THE NINETEETH CENTURY IN EL PUERTO DE SANTA MARÍA, AN ENGLISH ENTREPENEUR TRADES WITH SHERRY WINE"
The Burdon brand was created in 1821. It was named after its founder, John William Burdon, an English gentleman who established a business in El Puerto de Santa María as a sherry merchant.
The brand grew very famous, becoming the largest exporter of sherry in 1854. Its reputation saw him awarded the title of Supplier to the Royal Household in 1912 by King Alfonso XIII.
In 1932, the wine cellars and brands of John Williams Burdon changed hands to Bodegas Caballero.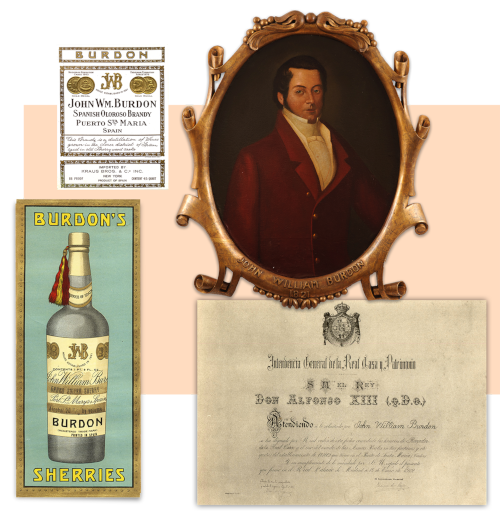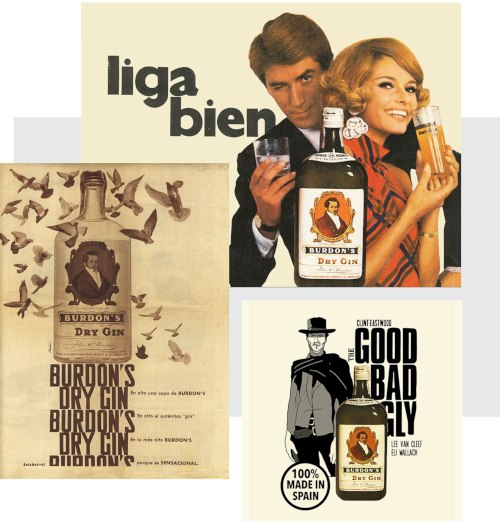 "AT HALF WAY OF THE TWENTIETH CENTURY, BODEGAS CABALLERO CREATED A GIN TO BECOME FAMOUS IN THE ENTIRE WORLD"
Burdon Gin was launched in middle of the 20th Century by Bodegas Caballero. It rapidly became an icon in the Spanish market, thanks to its acclaimed quality and its original advertising campaigns in the 60s and 70s.
Burdon Gin's fame crossed continents with the notable appearance of the gin in one of the most renowned Westerns in the history of cinema: the 1966 film "The Good, the Bad and the Ugly" by Sergio Leone.
"TODAY, AFTER 30 YEARS, WE'RE BACK IN YOUR CABINET. WITH THE SAME TASTE AND TWO NEW FLAVORS."
Very few gins have such a rich history. Burdon Gin made waves at the time, becoming one of the most popular drinks in the 70s.
Now Burdon Gin is being re-launched, with new packaging and two innovative flavors: Cherry and Spearmint.
Although John William Burdon was an Englishman, this gin is 100% Spanish, as ...
GREAT GINS
ARE ALSO MADE IN

SPAIN